COVID-19 UPDATE:
Research Resources Center (RRC) cores are back on campus to provide services and access to shared equipment (when possible), there are new guidelines issued by each core due to COVID19. Please reference each core's new user guidelines before requesting services, projects, or scheduling equipment. All questions or inquiries must be sent by email to respective core.
Overview of Services
The mission of the Flow cytometry core lab is to partner with investigators at the University and other area institutions in using flow cytometry, mass cytometry and small particle technology to further advance scientific research. The facility will provide consultation for experimental and scientific design and provide training and services to access and operate the different instruments in the facility including flow cytometers, cell sorters and small particle detectors. The Flow Cytometry core lab is equipped with a wide variety of state-of-art multi-laser/multi-color flow cytometry sorters and analyzers, a mass cytometer, small particle detectors as well as a bead-based multiplexing technology to read multiple analytes in very small volumes. The staff provides assistance with experimental design for planning and execution of experiments and projects, troubleshooting, advice on sample preparation, assisted acquisition of samples, individualized training, and consultation on data analysis.
Leadership and Staff
| | | | | |
| --- | --- | --- | --- | --- |
| Name | Role | Phone | Email | Location |
| Balaji Ganesh | Director | 312-355-0742 | bganesh@uic.edu | E-25 |
| Wei Feng | Research specialist | 312-996-0540 | weifeng@uic.edu | E-20 |
| Zainab Alshawabkeh | Research specialist | 312-996-2775 | zalshawa@uic.edu | E-21 |
| | | | | |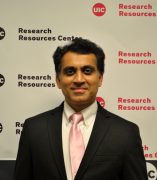 Location and hours of operation
Hours
Location

Monday - Friday

9:00 AM - 5:00 PM

835 South Wolcott Ave, Medical Sciences Building E-25

Chicago, IL 60612
Links and Resources